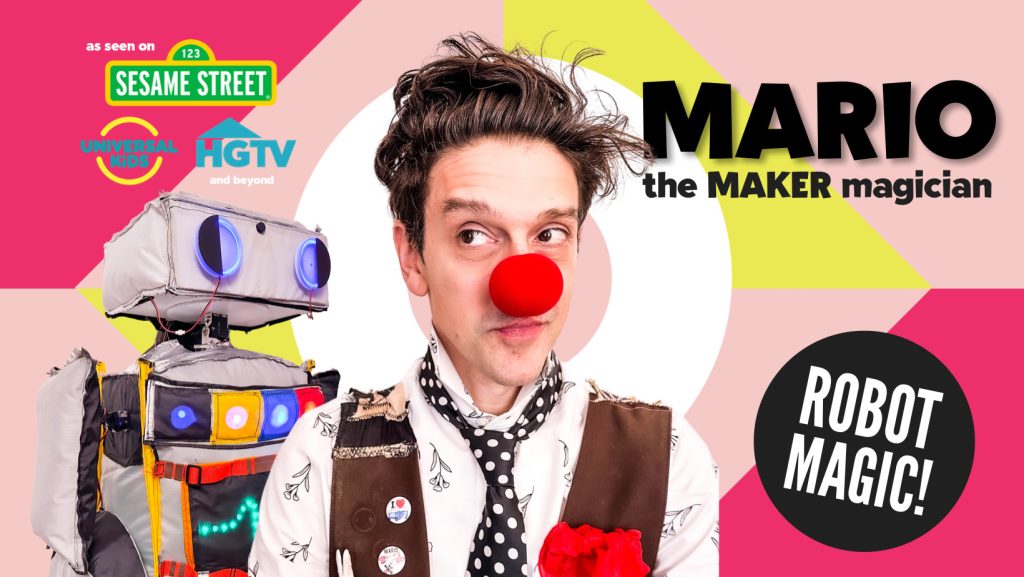 Direct from New York City
Robots and magic and slapstick… oh my! Contagiously upbeat and full of heart, the ever-endearing Mario leads you through a romping explosion of energy and belly laughs punctuated with moments of heart and emotion that will catch you by surprise. Not "just a kids' show," this is an all-ages theatre experience… for adults, kids, families… everyone.

Mario the Maker Magician weaves through a world of vaudeville and magic, cardboard and robots, science and innovation, to instil a positive message that will last in the minds and hearts of all who partake in the hour-long journey together.

The show has toured the US and beyond over the past several years, shaping into the beautifully passionate expression of all-ages theatre that it is today. Mario also has appeared on Sesame Street, Universal Kids, and live on tour with David Blaine, who calls him "the best kids' magician in the world!!"
"Mario's work creates opportunity. The opportunity to inspire people to break free from stagnation and to create. It's an opportunity to take what's come before and expand it into new directions. That's an incredible gift."
-David Copperfield
"magic with a soupçon of science"
-The New York Times​
"instant and infectious chaos in the best possible way" (5 stars)
-one4review
"his genuine investment in the future creative endeavours of these kids shines through" (4 stars)
-The Scotsman
"passionately curious about the world, and determined to share his wonder with an audience" (5 stars)
-The List UK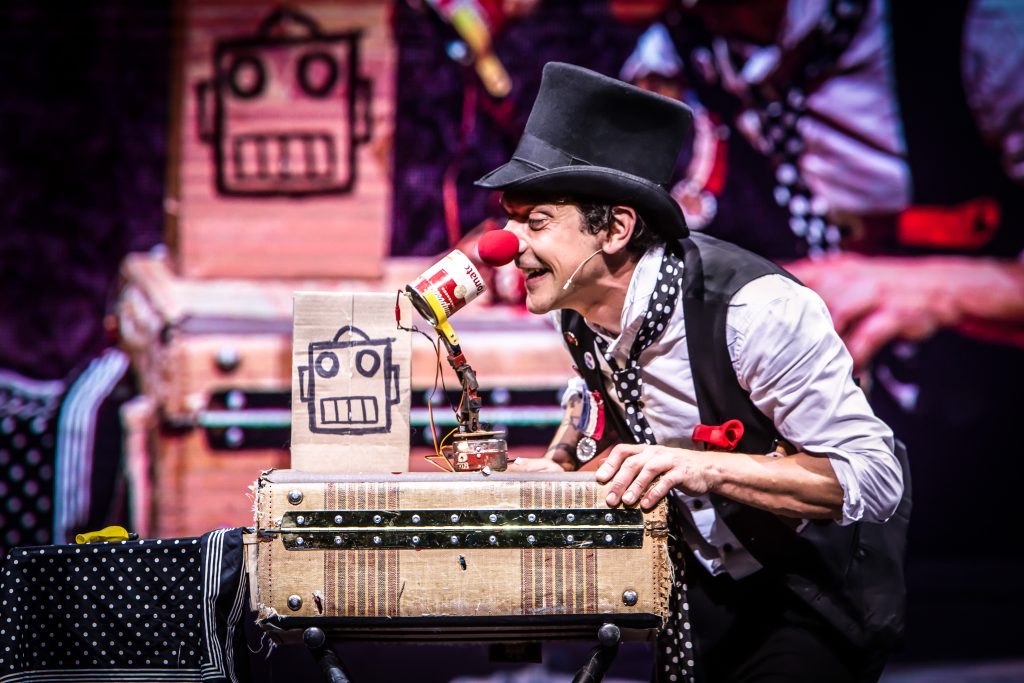 ABOUT
Mario "the Maker Magician" Marchese is a first generation Italian-American, New York-based touring performer, author, and maker, known for his unique brand of Robot Magic. He infuses DIY electronics and robotics into his work and uses magic to inspire kids and families to make and create without limitation.
Mario has appeared on Sesame Street, NBC's Universal Kids, HGTV, and live on tour opening for David Blaine's 2018 North American tour. Blaine calls Mario "the best kids magician in the world!!" Mario is also the author of two step-by-step magic books: The Maker Magician's Handbook and Robot Magic, the latter of which boasts a foreword by David Copperfield.
During the pandemic, among many other projects, Mario created the robot magic social media sensation, Automabot. This ever-endearing Arduino-driven cardboard magician went viral across the internet and even made TV appearances in the US and Japan.
It's a family business, through and through. The "Mario the Maker Magician" brand is a collaborative effort between Mario, his wife, Katie, and their two children, Gigi and Bear (the real bosses.) They tour together, invent together, learn together, and dream together, always.
Contact Josh Sherrin josh@nicholasclarkmanagement.com for Australia, New Zealand, Canada, China, Japan, Singapore, Hong Kong bookings